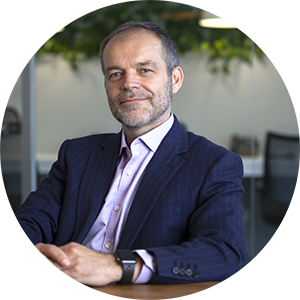 Peter Hradiský was appointed General Manager of Edenred Czech Republic and Edenred Slovakia with effect from 16 August 2021.
Peter Hradiský, former CEO of Lyreco UK & Ireland, will now be responsible for managing the Edenred team in Slovakia and the Czech Republic. Reports Dane Sintejudean, Regional Director for Central and Eastern Europe. Peter Hradiský has more than 20 years of experience in trade, business distribution and services. He brings international experience to Edenred,
which he gained in management positions in 6 European countries. His name is also associated with the Lyreco brand, which under his leadership has transformed from a start-up to a strong and stable company with an international reputation.
The success of any company depends on employee satisfaction, growth and job success. This is a work philosophy that he wants to use together with his experience in Edenred Slovakia. The current market situation is a challenge for him to start a new phase of the company. "It is a unique opportunity to build new partnerships that will bring new energy into it and towards our partners - users, clients, as well as our employees, for whom we want to be the brand of first choice," he commented Peter Hradiský.
As CEO, he wants to continue the dynamic digitization of the company at all levels. Its goal is to maintain the company's leading position in the care of employees through a motivational and rewarding platform of fixed and flexible benefits.
He is convinced that the way to achieve this goal is through digital solutions. Dana Sintejudean, Regional Director for Central and Eastern Europe, adds: "I am glad to welcome Peter to this role in Edenred. His international experience and know-how in the field of management and sales are a great contribution to the further development of our business, as well as
to strengthen our efficiency in the market, where we see an opportunity to grow, whether in terms of employee benefits or in accelerating the digitization of society as a whole. "
---
About Edenred
Group Edenred is a leading digital platform for services and payments and a day-to-day companion for people at work, connecting more than 50 million users and 2 million partner merchants in 46 countries through more than 850 corporate clients.
Edenred offers specific payment solutions for catering (such as food benefits) and mobility (multi-energy solutions, administration, tolls, parking and commuting), incentives (gift cards, employee engagement platforms) and corporate payments (such as virtual cards).
In the spirit of the motto of the company "Enrich connections. For good. "These solutions improve the well-being and purchasing power of users. They increase the attractiveness and efficiency of companies and revive the labor market and the local economy. They also promote access to healthier foods, more environmentally friendly products and facilitate mobility.

Edenred's 10 employees are committed to making the world of work an interconnected ecosystem that is safer, more efficient and more responsible every day.

In 2020, thanks to its global technology assets, the Edenred Group was able to do business in the amount of almost 30 billion euros, mainly through mobile applications, online platforms and cards.

Edenred is listed on the Euronext Paris stock exchange and is included in the following indices: CAC Next 20, CAC Large 60, Euronext 100, FTSE4Good and MSCI Europe.
The logos and other trademarks mentioned in this press release are registered trademarks of Edenred SE, its subsidiaries or third parties. They may not be used for commercial purposes without their prior written consent
owners.