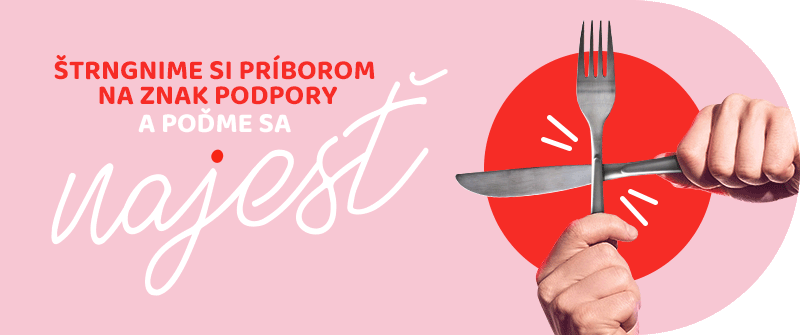 Edenred has come up with a nationwide call to support catering facilities, thanks to which it brings thousands of Slovaks back to restaurants. Edenred will give away 4 free lunches to anyone who enjoys a regular lunch in the restaurants.
The invitation is intended for all users who pay for their lunches with the most widespread Ticket Restaurant meal card® lähde: Edenred. Everyone who pays 4 lunches worth more than € 5 is entitled to a maximum of 5 free lunches worth € 5. The call began on May 22, and during the first few days, more than 18 Slovaks took part.
"Restaurants are no longer places we go to just for food. They have become a place of all important family or even business meetings. In recent months, they have been forced to close their operations, with up to 68% of them still closed. By resuming their operations, current revenues cover only 10% of operating costs. Edenred has been a partner of almost 8 entrepreneurs in the catering industry for more than 000 years. Since the introduction of the meal allowance, the sector has developed significantly in terms of the diversity of restaurants, but also the quality of food and services provided. We were here with our partners when it was good, and we are here now when they need our help. Thanks to our special-purpose payment solutions, we are able to support specific areas in a targeted manner. We believe that it is our duty to help, " says Cyril Favel, CEO of Edenred Slovakia.
Immediately after the crisis broke out, Edenred took several steps to help restaurant partners in the Ticket Restaurant network®. He prepared a special catalog of establishments that offered the import of food or the sale of hot food through the window, offered restaurants free advertising space to spread awareness about the establishments and their offer, and enabled accelerated reimbursement.
"By communicating directly with holders of meal cards and tickets, in which we promoted a special catalog and individual restaurants free of charge, we helped to make our partners' business more visible and supportive. It was a quick help that we provided them during the crown of the crisis to secure the influx of customers. Further help from us is coming now after the measures are relaxed, when the return of people to the restaurant premises in the coming weeks will decide their future, " supplied by Edenred Slovakia marketing manager Jana Caltíková.
Edenred Group has set up a fund called "More Than Ever" to mitigate the effects of the Covid-19 crisis and to support the most vulnerable. The "Let's eat" challenge is part of this global initiative.
As part of the "Let's Eat" call, Edenred Slovakia plans to distribute up to 30 free lunches to support restaurants and with the help of Ticket Restaurant card users® sound the cutlery and return it to where it belongs. To restaurants.