On May 22, 2020, Edenred launched the nationwide Let's Go Eat Challenge to support restaurant facilities to mitigate the impact of coronavirus in the gastronomic industry. The initiative was able to motivate the public to support restaurants and engage up to 64 Ticket Restaurant card users® and together with them managed to support restaurants in Slovakia up to 260 times. In addition, in support of the restaurants Edenred handed out 30 free lunches.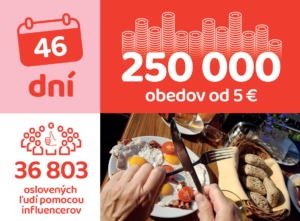 From 31 August, Edenred Slovakia launched the second phase of the call, following on from #PodmeSaNajest, with the subtitle #UrobmeToPreSeba. In it, Edenred expresses support for small businesses - restaurants, and as part of this activity he wants to bring their concrete stories.
Because restaurants are not just business, but they are also people, friendships, family, memories, experiences, traditions, or a way to taste the world. At Edenred, we support small and diverse restaurants, standing by them and their owners. Losing them would mean going back to a time when we didn't have a variety of food and taste options to choose from. Within #UrobmeToPreSeba, we distribute 100 rewards in the form of cashback for card payments in restaurants with the Ticket Restaurant card®.
As well as "Let's eat", its second phase "Let's do it for ourselves" is one of the activities implemented from the "More Than Ever" fund, established by the Edenred Group at the international level. The fund is intended for activities to mitigate the effects of the Covid-19 pandemic, including support for restaurants in the Ticket Restaurant network® lähde: Edenred.