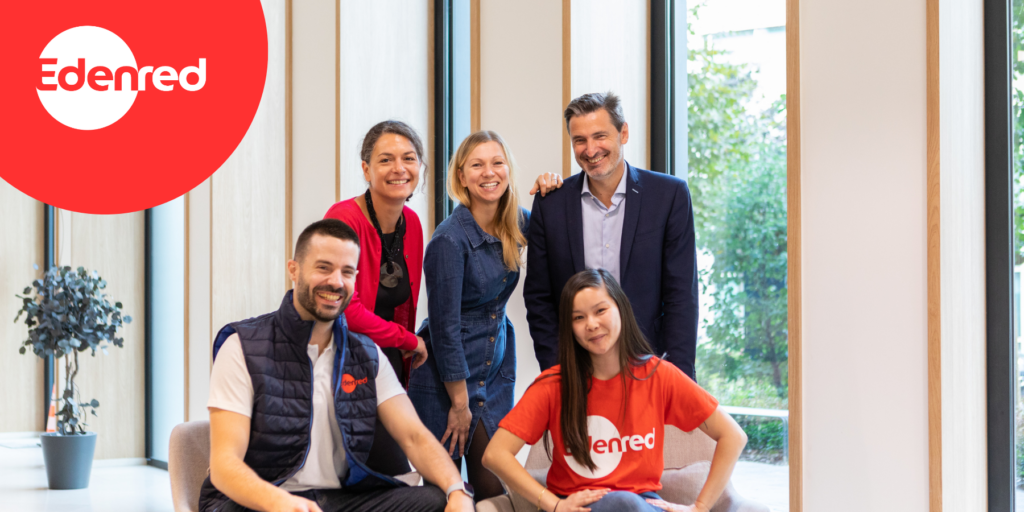 Sustainable development has not only concerned industry for a long time. It is a moral obligation of every society. We at Edenred are aware of this, which is why we have set goals by which we want to contribute to improving society's quality of life by 2030.
Man is alive not only by food. At Edenred, we know that the good life requires much more. Therefore, in addition to providing solutions in the field of employee catering and benefits, we want to contribute to the development of society and the improvement of the environment.
"The Edenred Group, which operates in 45 countries around the world, has set itself a bold, ambitious, but at the same time achievable goal to ensure sustainable development for the entire society by 2030," said Lívia Bachratá, Director of Public Affairs at Edenred.
More women, less CO2 and more
We arrived at the goals we set for the next seven years at Edenred in discussions with all stakeholders. Therefore, they were not set by the management and given to the employees to fulfill them. We also consider this a contribution to social responsibility.
"Our goal is to reflect on what unites us and what moves us forward: strong values, an ambitious strategy and good relations with the users of our services. We care that social responsibility is reflected in all our activities," added the CEO of Edenred for Slovakia and Hungary, Tamáš Szendrὄ.
In reality, our commitment to 2030 means:
have more than 40% of executive management positions occupied by women,
reduce greenhouse gas emissions by 52% compared to 2013,
cooperate on education so that at least 85% of merchants and users of Edenred solutions are informed in the area of ​​balanced eating and food waste.
A trend that is getting stronger
Our recent survey showed that 54,6 percent of employers currently fully comply with social responsibility and CSR activities. According to the survey of 1 regular employees of companies and institutions, 616 percent of respondents try to follow at least some principles. Only 31,9 percent of employers do not (yet) focus on CSR at all.
"We evaluate these numbers very positively and hope that they will continue to grow in the next period. We also contributed to social responsibility with our June activity, called Ideal Week. As part of it, we educate about CSR topics and at the same time, as a group, we engage in charitable activities worldwide to support sustainable development, health and improving the quality of life through food." explained L. Bachratá.
A perfect week
For a long time, as a group, we have been organizing interesting activities as part of Ideal Day, which this year changed to the already mentioned Ideal Week, i.e. from one day to a whole week. Within it, we organize dozens of charity events. This year, for example, we launched the educational project oZDRAVTE SA.
"The main face of the project is Veronika Hanáková, an experienced nutritional specialist and biochemist, who presents the importance of healthy eating and especially the extraordinary importance of a full, warm lunch in an attractive way based on scientifically based facts. In addition to the composition of the diet and its nutritional values, according to Veronika Hanáková, social contact, closeness and interpersonal relationships, which can be deepened with colleagues during lunch together, are also important for each of us. We deeply agree with her claims, which is why we decided to cooperate," added L. Bachratá.
The topics of the Ideal Week certainly exceed the limit of seven days, and we continue to address them.
Connecting for good
Edenred is not only an issuer of meal cards. Edenred connects. In the past, a "piece of paper", i.e. a meal ticket, connected the employee to the restaurant. Today, it makes life easier for employers and their employees with modern digital benefit solutions. It creates connections that improve life. They support health, help to relax, are a source of pleasure and joy.
"At Edenred, we believe that there is enormous power in connecting and networking people and operations. It brings new possibilities, inclusive solutions, helps create local communities and solve local needs. This improves the lives of people, but also the planet. We see great sense in these activities, and therefore we will continue them as a group," added Tamáš Szendrὄ.